Have you ever gotten to second base?
05/20/09
If you've seen Manhattan Homes Inc.'s client list you probably know I'm a "star struck" kind of guy (my show business friends use a different expression which is unprintable here). Even the salespeople I've hired (or married) are or have been actors. Karin Wolfe, who has a great set of pipes, performed for the President at the White House, originated the title role of
Gigi
in the Tony Award winning Broadway musical, and for many years was Mary Anderson on
Days of our Lives
.

Anyway, one of my favorite TV shows is
Inside the Actors Studio
with James Lipton (BTW, his wife, Kedakai, is a real estate broker here in NYC). If you've watched you know at the end of each show Prof. Lipton concludes by asking his guest 10 questions derived from a similar list compiled by Bernard Pivot, who's own list was inspired by the so-called
Proust Questionnaire
. I recall similar questionnaires or "confession albums" being secretly passed around my junior high school, and my embarrassment at not knowing what a French kiss was. A copy of some of the questions Proust answered appears below; my junior high school questionnaire does not (another unprintable item).

Well, in real estate we each have our own "Proust Questionnaire", a set of questions we ask each buyer to help determine what they want. I suspect there's much overlap among brokers in this regard, but some questions can often yield very revealing answers. Supposedly, actors are prone to ask themselves or their directors "what's my motivation" and for us, as brokers, knowing what lies in the heart of our buyers can impact success. After some interaction it usually becomes clear where a buyer is "coming from" (and where he and/or she wants to go), but sometimes it's not. When I'm stumped I've devised a special question to add to my own "Proust Questionnaire". It is

If you were to be granted one super power, what would you choose:
(a) the ability to be the best in the world at any and every sport you chose to play
(b) the ability to speak eloquently in every language known to man
(c) the ability to play every musical instrument at the top most level of virtuosity
or
(d) the ability to heal anyone suffering from disease by touching them

How would you answer?


These are the questions from Proust's questionnaire: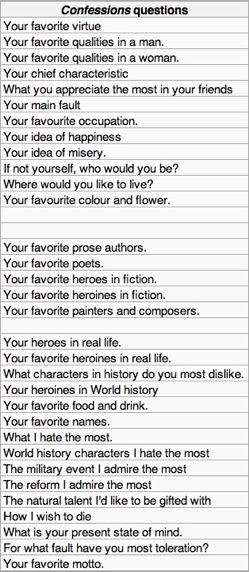 --Leigh Zaph. (any comments can be emailed to us at
webitorials@manhattanhomesinc.com
, thanks).